March 30, 2021
Harvey's Chewy Molasses Cookies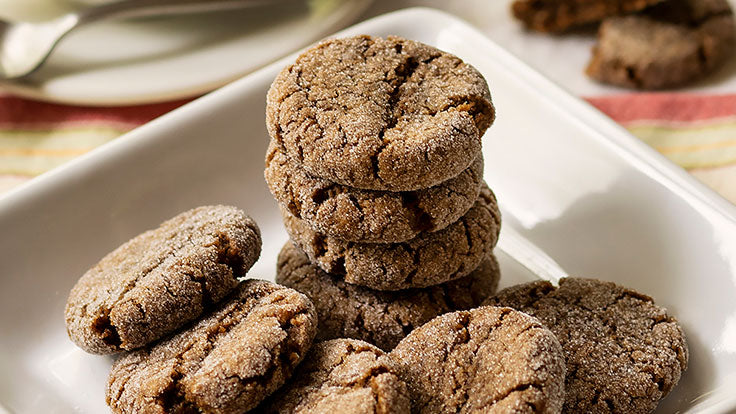 These old fashioned style cookies are sweet and full of spice. They keep well, which makes them a great recipe to make ahead or ship.
Servings
48 cookies
Prep / Cook
20 minutes
Ingredients
2/3 cup Harvey's Butter Rum Batter softened
10 Tbsp. granulated sugar
2 large eggs
3 1/2 cups all-purpose flour
4 tsp. cinnamon
1 tsp. cloves
1 tsp. ginger
1 tsp. baking soda
1/2 tsp. baking powder
1/2 tsp. salt
1/2 cup molasses
Instructions
Combine Harvey's Butter Rum Batter and sugar in mixing bowl. Beat with mixer for 5 minutes or until well-combined. Add eggs and beat for 30 seconds. Add molasses, beat until combined.
In another bowl, combine all dry ingredients. Add flour mixture into Harvey's mixture. Beat at low speed or until just combined. Cover and chill for 30 minutes.
Pre-heat oven to 350 degrees.
Shape dough into 48 balls, about 1 1/2 Tbsp. each. Measure 6 Tbsp. granulated sugar into a small bowl; roll balls in the sugar and place 2 inches apart on parchment lined baking sheets.
Bake for approximately 10-12 minutes, of just until set. (They will appear slightly under baked, but will firm up and be the perfect level of moist and chewy). Cool 5 minutes on pan before removing to cool on wire rack.