September 03, 2021
Harvey's Butter Rum Batter Bars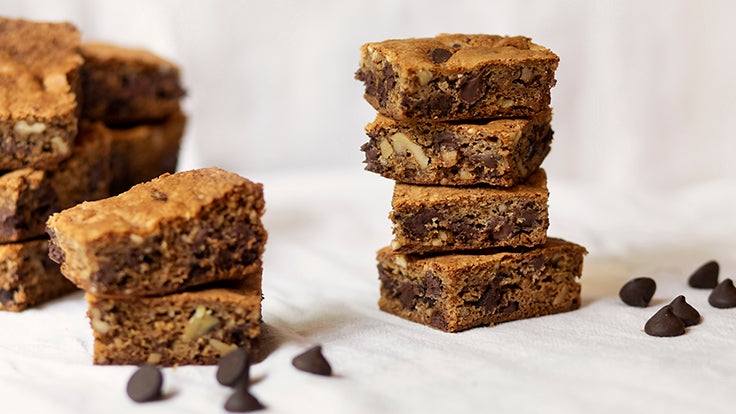 Chocolate chips and nuts are added to this moist and slightly chewy bar cookie.
Servings
16 Squares
Prep Time
45 Minutes
Ingredients
1-1/2 cups Harvey's Butter Rum Batter, softened
2 large eggs
1 tsp. vanilla
1 1/2 cups, sifted flour
1 tsp.baking powder
1 tsp. baking soda
1/2 tsp. salt
1 cup semi-sweet chocolate chips
1 cup walnuts or pecans, chopped
Powdered sugar (optional)
Instructions
Preheat oven to 350 degrees.
Spray or butter 9" X 9" baking pan and line bottom with parchment paper, spray again.  
Combine sifted flour, baking powder, baking soda and salt in small bowl.
In medium bowl, combine Harvey's Butter Rum Batter, eggs and vanilla.
Stir in flour mixture.
Add chocolate chips and nuts.
Spread into prepared pan.
Bake approximately 35 minutes or until only a few crumbs remain when inserting toothpick in center.
Let cool on rack before cutting into squares.
Sprinkle with powdered sugar if desired.