March 30, 2021
Harvey's Pineapple Upside Down Cake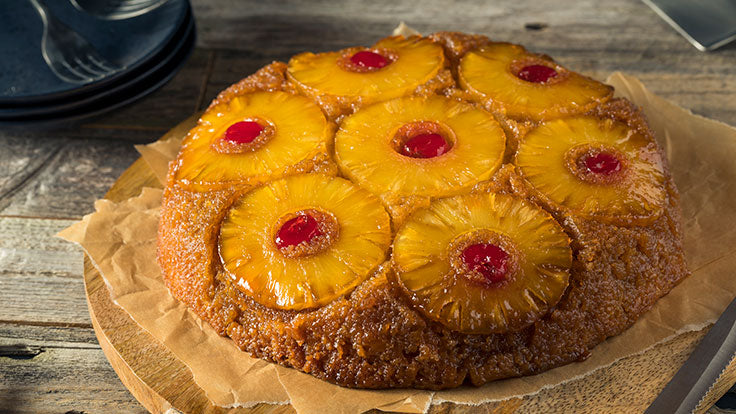 This classic cake boasts all the fruity, gooey, caramel-y goodness that's made it a favorite for generations—plus a secret shortcut so you can make it in a snap
Prep/Cook Time
1 hour
Ingredients
1 box yellow cake mix (plus vegetable oil and eggs called for on cake box)

1 11oz. tub of Harvey's Butter Rum Batter (softened)

1 tsp rum extract

1 20oz can of pineapple slices in juice (drain and reserve juice for cake)

1 6oz jar of marschino cherries without stems (drained)
Instructions
Preheat oven to 350 degrees (325 degrees if using non-stick or dark pan).

Place Harvey's Butter Rum Batter in a 9 X 13 pan. Place in oven until melted, spread to cover bottom of pan.

Arrange drained pineapple slices over the melted Harvey's. Place one cherry in the center of each pineapple slice.

Add water to reserved pineapple juice to make 1 cup of liquid. Make cake mix following package directions except substitute juice/water mixture for the plain water and add the rum extract. Pour cake batter over the pineapple slices.

Bake for about 42-48 minutes, or until cake tests done with a toothpick. Remove from oven. Immediately place a heat safe platter over the cake and turn upside down. Leave the pan over the top of inverted cake for 5 minutes to allow the topping to cover and drizzle down cake. Serve warm or cold.